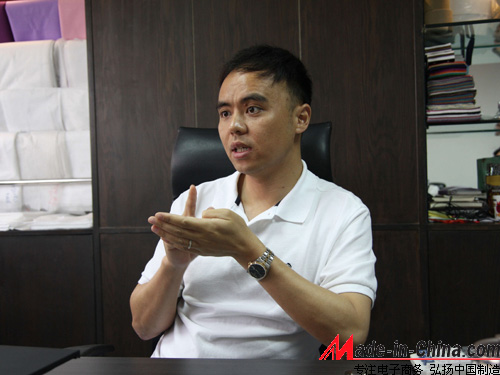 (Source: "Focus Vision" on page 18)

He has worked as a consultant and general manager of a printing company and has done English training in the size of ten chain stores. He is just over 30 years old. Now is the general manager of Shenzhen Lifeng Zhengde, which mainly deals in the export of non-woven fabrics. This person is Huang Chuanfeng.

Interview guests: Shenzhen Lifeng Zhengde General Manager Mr. Huang Chuanfeng Company English name: Zend International Co.

China Manufacturing Network AS Certified Supplier Showroom: http://zend123.en.made-in-china.com

There are many stories of Mr. Huang Chuanfeng. After he successfully sold the English training company, he chose the non-woven export of the environmental protection industry in the two rising industries of environmental protection and health.

His career as a consultant has made him a good partner with people. At the age of 25, he has managed a company with 500 people and is well versed in management skills. He is comfortable with English, outgoing, open, confident, and talkative. These qualities have laid a solid foundation for his current foreign trade operations. "Three years later, I hope to buy an office building. There are 40 foreign trade team sizes, and there are highly qualified people." Huang Chuanfeng is full of confidence in Zhengde, a three-year-old Li Zhifeng.


E-commerce is more than just B2B

Huang Chuanfeng began to contact B2B five years ago. The first consideration in foreign trade was to select a B2B platform and eventually chose China Manufacturing Network. At present, he feels that the choice is correct. "Inquiry is accurate, and there are few garbage inquiries." In less than two months after the signing, a list of 1 million US dollars was received. Surprisingly, he continued to increase the manpower maintenance in China Manufacturing Network, "requiring every employee to participate in the basic training of China Manufacturing Network", and learn to publish information and photos.

Huang Chuanfeng has a good mentality. "We need to look at the problem in a positive way of thinking." Regardless of which platform you choose, you must have advantages and disadvantages. There are successful cases and failure cases are inevitable. Since we have chosen not to see how others are unsuccessful, we have to think more about how we can succeed and how we can fully utilize the strengths of the platform.

In addition to using the B2B platform, we must also take the initiative to establish customer accumulation with network resources. Now, Lifeng Zhengde has established a large database of potential customers. Each salesman has thousands of customers in his hands and has received a lot of orders accordingly. Using the database can also help partners deal with inventory, beautiful pictures + accurate description + attractive prices, always find suitable buyers.

Three o'clock refining the e-commerce experience

<br> <br> Huang Chuanfeng

of people

willing to share, never mean to teach their own feelings and experiences. He summed up three experiences in e-commerce.

First, establish e-commerce awareness and master the essence. "E-commerce integrated marketing practitioners", this is Huang Chuanfeng's own positioning. At present, Li Fengzheng's achievements have been attributed to the use of e-commerce. Consciousness comes, the essence is grasped, and the operation will be handy.

Second, work in place and attention to detail. In contact with customers, you must write a development letter. Just a template for the development of the letter, there are 10 kinds of positive peaks. "You can't figure out what versions your customers like. You can only make the preparations more perfect and send them according to customer preferences." For some inactive dormant customers, be patient, don't give up, and at least insist on sending 10 e-mails. Including English capitalization, professional terms and other details, Huang Chuanfeng will require sales staff to understand.

Third, I believe persist. In the foreign trade industry, there is always no ready-made customer to let you directly follow the order, and you must develop it yourself. It's not uncommon for a novice to make the first single in six months. To become a good salesman, adhere to the compulsory course. This is a long and lonely process, but it is natural. Just like the farmers sowed, they chose the arable land and the seeds, fertilized the water every day, and sooner or later would result. Each salesperson is the first one and Huang Chuanfeng must celebrate for him. Once the bill is issued, returning the bill is a matter of course.

Buying berths, keyword rankings, and advertising can now be done by almost every company. Therefore, competition with peers requires deeper meticulousness and initiative. "Break the essence of e-commerce and use it properly to get more orders." But there are very few who really have the essence and put it into action. Huang Chuanfeng thinks it is necessary to avoid two misunderstandings: Doing e-commerce is not just about spending money; good English does not represent good communication skills.

"It takes more money to invest in the platform, but there is no way, no core staff management, regardless of the store or the website, are dead, so the effect is doomed bad. In addition, just to find a good English person to do translation, does not mean that is good Communication skills, but also can correctly describe the product, have a strong appeal."

Huang Chuanfeng also has a compelling work: add a function in the website to make the most relevant raw material (oil) price trend map with non-woven fabrics. This trend chart is valuable to customers and thus attracts them to visit websites repeatedly. . Based on this, Huang Chuanfeng also made a subscription function. Buyers can leave emails, industry knowledge, and new product releases. They can often report to customers to establish close contacts. "This is also a good application of licensing marketing."